Doug Gibson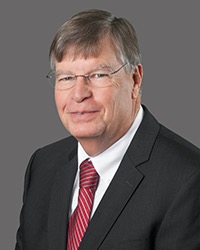 Doug Gibson has been a leader in the Ware County legal community for over 36 years.  Today, he represents clients who have been injured in serious accidents, as well as families that have lost a loved one due to the negligence or misconduct of another person or business.
Doug has previously served the local legal community in a number of capacities, including Solicitor General, Public Defender, and President of the Waycross Bar Association.  He currently presides over the Municipal Court of the City of Waycross and previously served as the Ware County State Court Judge, an elected position he held from 1997 through 2020.  (Doug's service on the bench allows him to maintain a private law practice focused on personal injury and medical malpractice cases.)
Over the years, Doug has taken significant steps toward enhancing his ability to represent clients in personal injury and medical malpractice cases.  He earned his Bachelors of Science in Nursing (BSN), received his EMT Certification in 2008, and completed the Paramedic Diploma in 2010.  He is also Captain of the newly organized Pine Valley Volunteer Fire Department, and participated in the creation of the Department after the devastation caused by the Sweat Farm Road fire.
Doug married Delores Taylor of Charlton County in 1978 and raised their family in Ware County. They are members of the First United Methodist Church, where they have served in various capacities over the years. Their son, Taylor, is a commercial pilot and registered nurse.  Their daughter, Addie, practices law alongside her father at Gibson & Associates, P.C.
Bar Admissions
Practice Areas
Personal Injury
Car Accidents
Wrongful Death
Premises Liability
Medical Malpractice
Honors & Awards
AV Rated, Martindale-Hubbell
Rated 10.0, Avvo
Community Service Award, Ware County Board of Commissioners
Outstanding Community Service Award, Ware County EMS/Fire Explorer
Outstanding Mock Trial Attorney-Coach, State Bar of Georgia, Young Lawyers Division, Coastal Region
Education, Certifications & Licenses
University of Georgia School of Law, J.D.
Mercer University, B.A.
Bachelors of Science in Nursing, South Georgia State College
Associate Degree in Nursing, Abraham Baldwin Agricultural College
Graduate, Leadership Waycross
Emergency Medical Technician, Okefenokee Technical College
Paramedic Diploma, Okefenokee Technical College
Certification, Georgia Volunteer Firefighter
Licensed Pilot with Multi-engine and Instrument Rating
Scuba Instructor, Professional Association of Dive Instructors
Professional Associations & Affiliations
Waycross Bar Association

President, 1985
Past President, 1986
Secretary, 1984
Treasurer, 1983

Waycross Exchange Club, (1996-2001)
Ware Magnet Mock Trial Team, Coach, (1994-2007)
Waresboro PTA, President, (1990-91)
Ware County Airport Advisory Committee, (1993-96)
Community Service
Open Hearts Open Minds, Sunday School Teacher at FUMC of Waycross
Pine Valley Volunteer Fire Department, Captain
YMCA, Board Member
James M. Dye Foundation Board of Trustee South Georgia State College